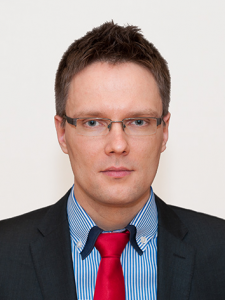 Wojciech Piotr Bula received M.Sc. degree in electrical engineering from the Wroclaw University of Technology, Poland in 2003 (top 5%), and his Ph.D. degree from University of Twente, The Netherlands in 2009. His master thesis focused on the development of TCD gas detector for the integrated gas chromatograph.

In MESA+ Institute for Nanotechnology, The Netherlands, his research was carried out in the Lab-on-a-Chip (BIOS) group, lead by Prof. dr. ir. A. van den Berg, the Supramolecular Chemistry and Technology (SMCT) group, lead by Prof. D.N. Reinhoudt and at the Mesoscale Chemical Systems (MCS) group, lead by Prof. dr. Han J.G.E. Gardeniers. He was engaged in research of micro- and nanotechnology for the exploration of new lab-on-a-chip systems with a special focus on silicon-glass microreactor technology.
His PhD thesis was dedicated to the development and evaluation of microfluidic devices for kinetic studies of chemical reactions in microscale. His research focused on development, fabrication and evaluation of multiline parallel microreactor, immobilization of enzyme and catalyst inside microreactor and mass and UV spectroscopy on chip.
As a postdoctoral research fellow Dr. Bula was involved in the European Union 6th Framework (Future Emerging Technology) project on biomimetic infochemical communication system (iCHEM), where he was responsible for the development of a micromachined artificial gland. He has designed and fabricated silicon-glass microevaporators for dissipation of sex pheromones, originating from Spodoptera littoralis, in the milieu.
He was involved in a Dutch NWO Process on a chip project on the integration of membrane and catalysts functionalities in a meandering microreactor for selective oxidation and hydrogenation reactions.
He also supervised an MSc student investigating an application of lab-on-a-chip devices in forensics to identify illicit drugs at the crime scene.
During his stay as visiting research scholar at Research Institute for Nanodevice and Bio Systems at Hiroshima University, Japan (Feb 2011 – Apr 2013), he was involved in development of microfluidic components of water quality monitoring systems.
He holds visiting professor position at the Faculty of Science and Technology at the University of Twente, The Netherlands from May 2013.
From October 2013 he is a project researcher at The University of Tokyo, Japan and continues the development of a standalone, low-maintenance and sensitive detection system to monitor very small concentrations of chemical and biological contaminants in drinking water. The merits of his current research focus on utilization of forced convection, dielectrophoresis, 3D printing, and membrane-based components to enhance the detection limit of microfluidic systems.